HYLAFAX FAX CLIENT

[

]

Using your windows PC to send fax is possible if you have the Hylafax Fax client installed on your PC.
For my purpose, I am using "Yet Another Java HylaFAX Client", YajHFC in short *thanks to Dave Edwards for pointing out this extremely useful client to me, which can be downloaded from here http://prdownload.berlios.de/yajhfc/yajhfc-0_4_0-FOPPlugin-0_1_3-setup.exe

After downloading, it is just a matter of installing the client on a Windows PC that is on your LAN. Ideally this PC would have a fixed Local IP address (in my case it is 192.168.1.20) as this address will be required by the Elastix fax module.

Preparing your PC to be the fax client

[

]
Before you can operate YajHFC on your PC, you will have to ensure that Elastix
knows about your PC so it can communicate with each other.

Under the Elastix GUI Fax -- > Fax Client Tab, add the IP address of your PC (in my case it is 192.168.1.20 as illustrated below) and apply the change.

Preparing YajHFC

[

]
Once installed, it will be recognised by your PC as a YajHFC Fax/printer.
Click on the YajHFC icon to starte the client and you will get the following screen: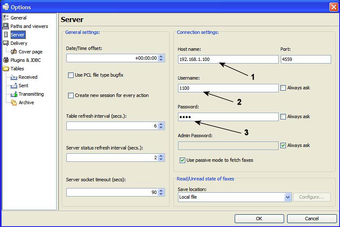 All you need to do to get started is to fill in the three fields as illustrated above:
Host name: 192.168.1.100 (my Elastix Box IP address – yours may be different)
Username: 1100 (My fax extension – yours may be different)
Password: The password for the fax extension

You may leave the rest of the settings at default. You can always explore once you are comfortable that the client is working correctly.
Once that is done, the client will initialise and you will get the following screen.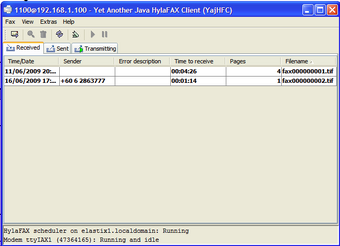 If you have already received some faxes prior to installing this client, they will be shown (as above) otherwise the screen will be blank.

Your fax client is now ready to receive a fax transmission.

To send a Fax from your PC

[

]

To send a word document from your PC, all you have to do is open the Word
document and print it to the Fax printer (see illustration below).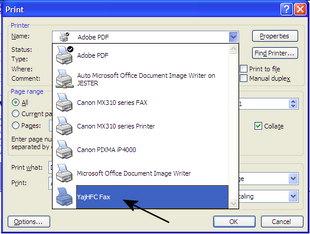 You will then be required to enter the fax phone number you wish to send the fax to.

Once done click on send (see illustration below)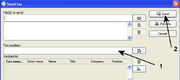 Extracted from " Elastix without tears "